"Recycling Your Glass" Video Now Available!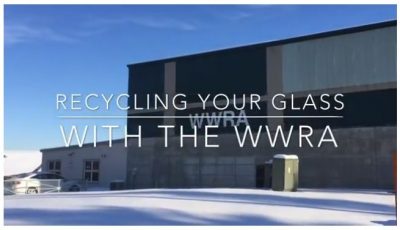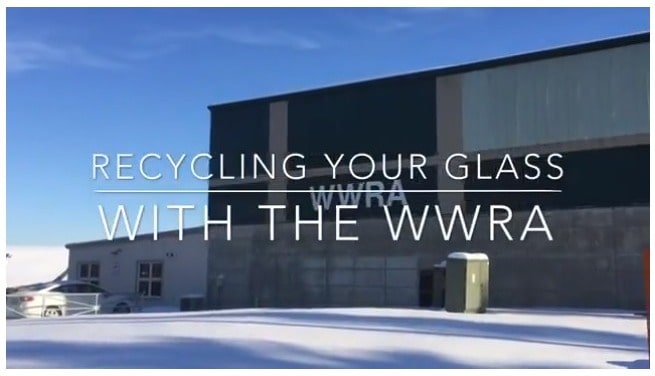 Check out our new video all about "Recycling Your Glass."  Starring Reggie the Raccoon, Facility Manager Marc Williams, and Board Chair Jason Maciejewski!
See "Recycling Your Glass" video here!
WWRA RECYCLES GLASS!
Western Washtenaw Recycling Authority, WWRA, is recycling glass again. However, glass can only be recycled at the drop off bin sites located throughout each of the WWRA communities. City of Chelsea residents must also drop off glass to the bin sites.
The WWRA has launched a new video, "Recycling Your Glass," to help spread the word. The video is available on the WWRA website and Facebook page.
As a bit of history, the WWRA accepted glass for many years. But when the market for glass evaporated, collection of glass was dropped. The good news is that the WWRA secured a vendor that would buy glass about a year ago.
Local recycling is a process of collecting glass from residents, processing the materials, said Jason Maciejewski, the Dexter Township representative to the WWRA and the board chair. Then it's sold to a vendor that can either manufacture a new product from the recycled goods or re-sell to another company.
"It's part of a system," said Maciejewski. "The secondary markets for all of our materials ebbs and flows, based on supply, demand, and other economic fluctuations. We're glad that we were able to find another vendor to take our glass."
Why can't glass be picked up curbside?
Many City of Chelsea residents who take advantage of the curbside pick up service have asked why glass cannot be picked up with their other recyclables. Maciejewski says it's a matter of process.
"Glass that comes in with the single stream curbside pick-up ends up getting broken and mixed in with the other materials. That means it can't be separated and sorted into the glass collection area at our Werkner Road facility. The glass we pick up from the drop off bin sites is already sorted, so it can be transferred directly to the vendor pick up."
Maciejewski added that the bins at the drop off sites have slots for both colored and clear glass. As always, empty and rinsed recyclable materials are required.
Where can glass be dropped off for recycling?
A map of drop off bin sites locations can be found at the WWRA website. Most people use the bin site located across from the Chelsea Fairgrounds on Old Manchester Road and the bins at the Werkner Road facility.
Drop off sites include:
Manchester: 455 W. Main St.
Bridgewater Township: 8994 Austin Rd.
Lima Township: 11770 Dexter Chelsea Rd.
Lima Township: 5 S. Fletcher Road (Near Old US 12)
Chelsea: 20490 M-52 (near Vogel's Party Store)
Chelsea: Old Manchester Rd (across from Chelsea Fairgrounds)
Chelsea: WWRA facility,  8025 Werkner Road
Dexter Township: 6880 Dexter-Pinckney Rd.
The Western Washtenaw Recycling Authority is a non-profit public recycling program that was formed in 1991 with a State Grant to help Protect Michigan's Future by local residents. This Grant helped finance the construction of the 4200 square foot facility located at 8025 Werkner Road in Chelsea. The WWRA is subsidized by a group of five local communities that work cooperatively to implement residential recycling programs in the Townships of Dexter, Lyndon, Manchester and Lima, and the City of Chelsea. The townships are served by convenient drop-off centers while the City of Chelsea has weekly Curbside Recycling pick up.
For more information about the Authority and about "recycling, reusing, and reducing," visit the WWRA website at www.wwrarecycles.org or "like" us on Facebook at www.facebook.com/wwrarecycles.