Location of WWRA Facility and Recycling Bins
WWRA Facility Location
The WWRA Facility is located approximately 3 miles north of downtown Chelsea on Werkner Rd.
Western Washtenaw Recycling Authority
8025 Werkner Rd
Chelsea, MI 48118
(734) 475-6160
If you are bringing glass to the Werkner Road site, please plan to come during business hours. Thank you!
WWRA Drop Off Bins
There are  drop-off bins located in all serviced townships for your convenience. See map for the locations of all the WWRA bin sites.
Live in the City of Chelsea? Need a curbside bin?
Email us at wwrafacilitymanager@gmail.com.
Commercial Pick Up
The commercial pick up route is now on Tuesdays, effective Jan. 2022.
City of Chelsea Curbside Pick Up Schedule
Main Street and homes West of Main on Wednesdays.
East side of Chelsea and Municipal lot (behind Cleary's Pub) on Thursdays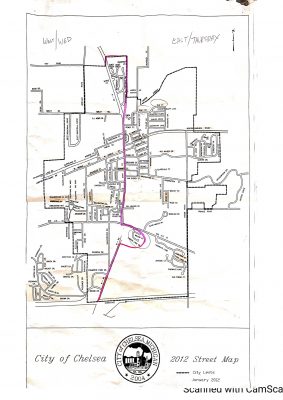 2021 Holiday Schedule
Presidents' Day 3rd Monday in February - Commercial pick up will be moved to Tuesday 2/16/21
Memorial Day  4th  Monday in May - Commercial pick up will be moved to Tuesday 6/1/21
Independence Day July 4th - Commercial pick up will be moved to Tuesday July 6, 2021
Labor Day 1st Monday in September - Commercial pick up will be moved to September 7, 2021
Thanksgiving Day November 25 - will be moved to November 26, 2021 (and every year)
Christmas Eve December 24, 2021 - Regular schedule
New Years Eve December 31, 2021 - Regular schedule