Acceptable:
PAPER
Newspaper and junk mail mix, glossy inserts are OK
Magazines, catalogues, paperback and phone books
White office paper
Paper bags
Cereal boxes, cardboard, corrugated cardboard boxes and boxboard - please flatten
PLASTIC
Plastic bottles #1-7 - such as milk jugs and detergent bottles, cottage cheese, yogurt, etc. Remove caps and lids, rinse well and flatten, labels may be left on.
Rigid plastics such as plastic buckets, soda crates, plastic pallets, coolers, drums, toys and playhouses, plastic flower pots, laundry baskets, empty garbage cans, plastic pet containers.
METAL
Tin and aluminum cans and lids - remove labels, rinse well, flatten if possible.
Empty aerosol cans are OK.
Small metals and aluminum
GLASS (DROP-OFF BINS ONLY)
Clean, with caps/lids removed
Separated by clear/color
DO NOT mix glass with curbside pickup. Glass must be dropped off at recycling bin or WWRA facility. LEARN MORE
OTHER
Car and Truck Batteries ONLY (no household batteries - see below)
Used motor oils are accepted onsite at the Werkner Rd. location ONLY, not at bin sites or curbside
Info on Battery Recycling
We receive frequent questions about battery recycling. As noted, we only accept car and truck batteries, but here are some resources for rechargeable and alkaline batteries:
Holiday Recycling
Holidays come with increased waste, such as disposable cutlery and plates, wrapping paper, cards, and more. Although many of these items aren't recyclable, the lists below define what can and can't be recycled. Please keep in mind we can't recycle everything (as much as we would like to!) and try to reduce the use of single use items and reuse what you already have.
YES:
Wrapping paper (not the plasticy/shiny kind)
Boxes (packing materials removed)
Gift bags (not the glittery/plasticy/shiny kind or with any decorations)
Cards and envelopes (not the glittery/plasticy/shiny kind or with any electronics, metals, or decorations)
Clean and dry disposable aluminum cooking pans
NO:
Here's a list of items we CANNOT recycle:
Christmas lights
Christmas ornaments
Christmas Trees

Styrofoam

Plastic and paper plates along with the plastic utensils

Plastic tablecloths

Bubble wrap, packing peanuts

Blow up lawn decorations

Anything with food debris still on it

Plasticy/shiny wrapping paper

Ribbons and Bows
Receipts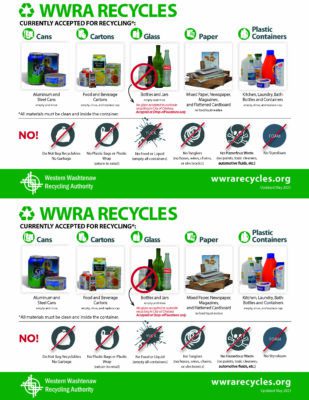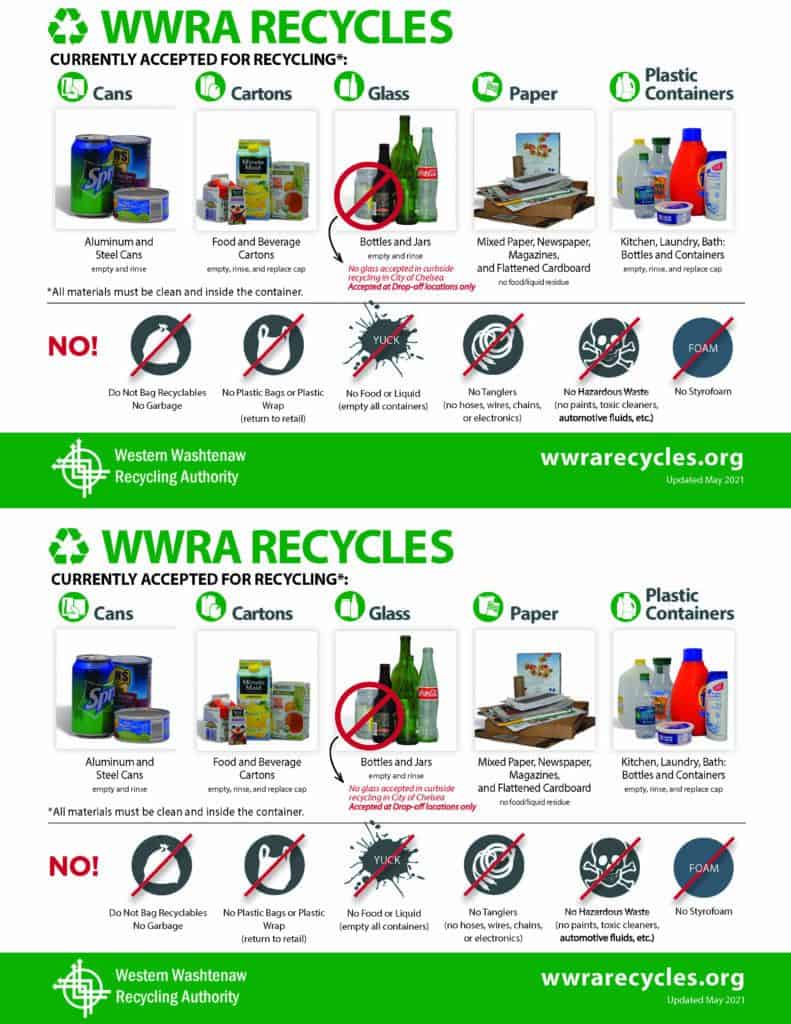 Download and print our WWRA Recycling Information PDF
Not Acceptable:
NO glass mirrors, window glass, light bulbs, etc.

NO motor oil containers

NO plates, china, ceramics

NO tires
NO paints
NO styrofoam of any kind
NO bubble wrap
NO computers, monitors, keyboards and printers
NO NCR paper
NO visqueen
NO pool covers
NO plastic tarps
NO plastic bags
NO household batteries
NO propane tanks of any kind
NO construction waste
NO glass candle holders
NO plastic straws
Click here for information on where you can recycle items that we do not accept.
NO TRASH!
Leaving these items and any trash in the bins or at the sites is considered ILLEGAL DUMPING and may be subject to a $1,000 fine.
Styrofoam Options:
We recommend that you recycle your styrofoam in Jackson: Click here for more information. 
Washtenaw County Clean-Up days are also available for styrofoam on select dates. Click here to check our news feed for County Clean-Up days.