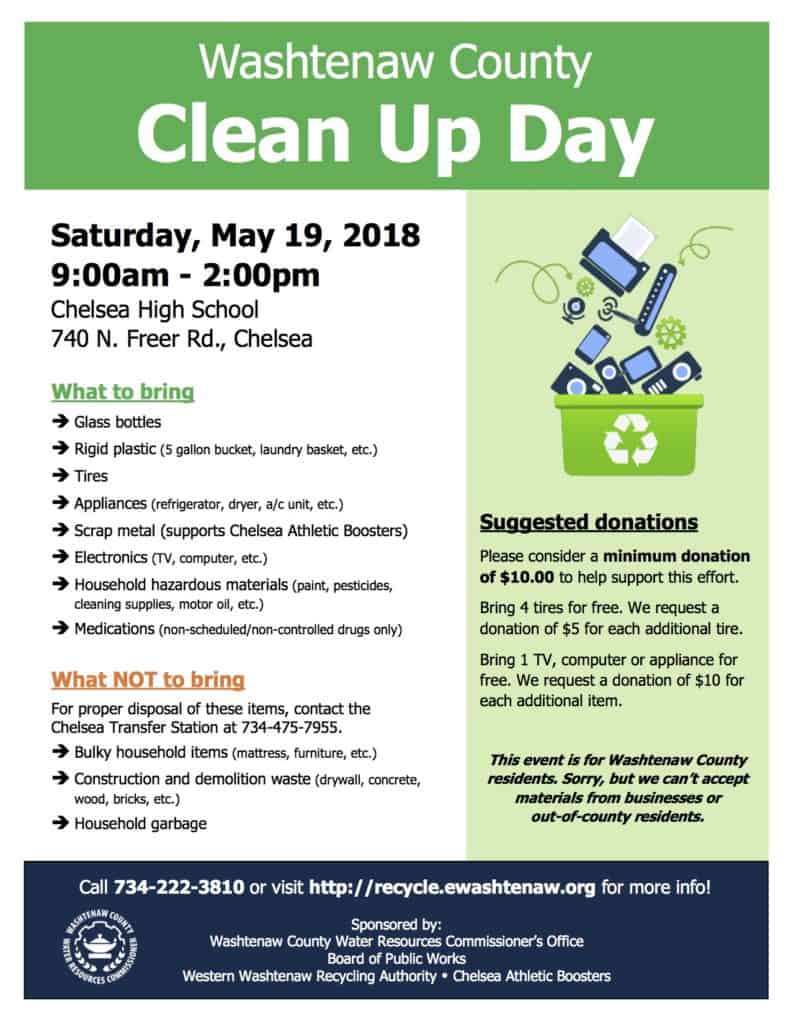 WWRA to Partner with County and Athletic Boosters for Spring Clean Up Day
Western Washtenaw Recycling Authority joins the Washtenaw County Water Resources Commissioner's Office Board of Public Works and the Chelsea Athletic Boosters to host the annual Washtenaw County Clean Up Day on Saturday, May 19, 2018, from 9 a.m. to 2 p.m., at Chelsea High School, 740 N. Freer.
The event is an opportunity for County residents to safely dispose of many items that cannot be recycled through WWRA curbside pick-up, at WWRA bin sites or disposed of through trash collection systems.
These items include:
Rigid plastic (5 gallon bucket, laundry basket, etc.)
Tires
Appliances (refrigerator, dryer, a/c unit, etc.)
Scrap metal 

 

Electronics (TV, computer, etc.)
Household hazardous materials (paint, pesticides, cleaning supplies, motor oil, etc.)
Medications (non-scheduled/non-controlled drugs only)
Organizers also provide a list of what is not accepted:
Bulky household items (mattress, furniture, etc.)
Construction and demolition waste (drywall, concrete, wood, bricks, etc.)
Household garbage
Residents with items not accepted should plan to contact the Chelsea Transfer Station on Werkner Road or call 734.475.7955.
Jason Maciejewski, WWRA board chair said the annual clean-up day is a great opportunity to dispose of paint, scrap metal, tube televisions, tires, electronics and other materials that can't go into curbside garbage cans.
"Making sure these materials get into the recycling stream saves landfill space and insures proper disposal of hazardous household materials," he said.
The Chelsea Athletic Boosters use the scrap metal drive as one of their primary fundraisers, usually raising between $3,000 and $6,000 each year.
The event, now in its tenth year, can collect over 30,000 pounds of electronics, almost 1,000 tires and 100 Freon appliances, and close to 40,000 pounds of hazardous household waste in any given year.
"The residents of western Washtenaw County have been dedicated to recycling for decades," said Maciejewski. "We have a strong participation rate at bin collection sites and curbside collection. There are always dozens and dozens of people who comment to me at clean-up day about how happy they are to dispose of these items properly."