Regarding the July 4 holiday week curbside pick up schedule: Wednesday's Curbside Recycling will be picked up July 3rd because of Independence Day. Thank you! Reggie the Recycling Raccoon, Marc Williams, and Your WWRA Team!
[READ MORE]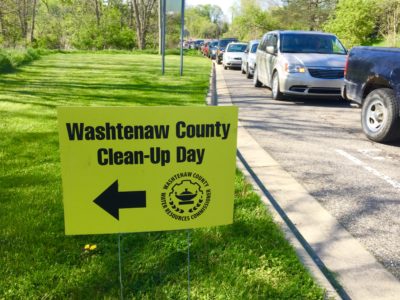 Thanks "Chelsea Update" for the coverage! Click link! Spring Clean Up Article Pics from last year!
[READ MORE]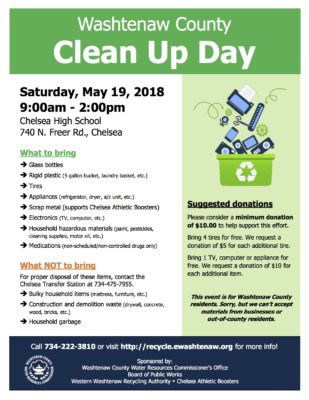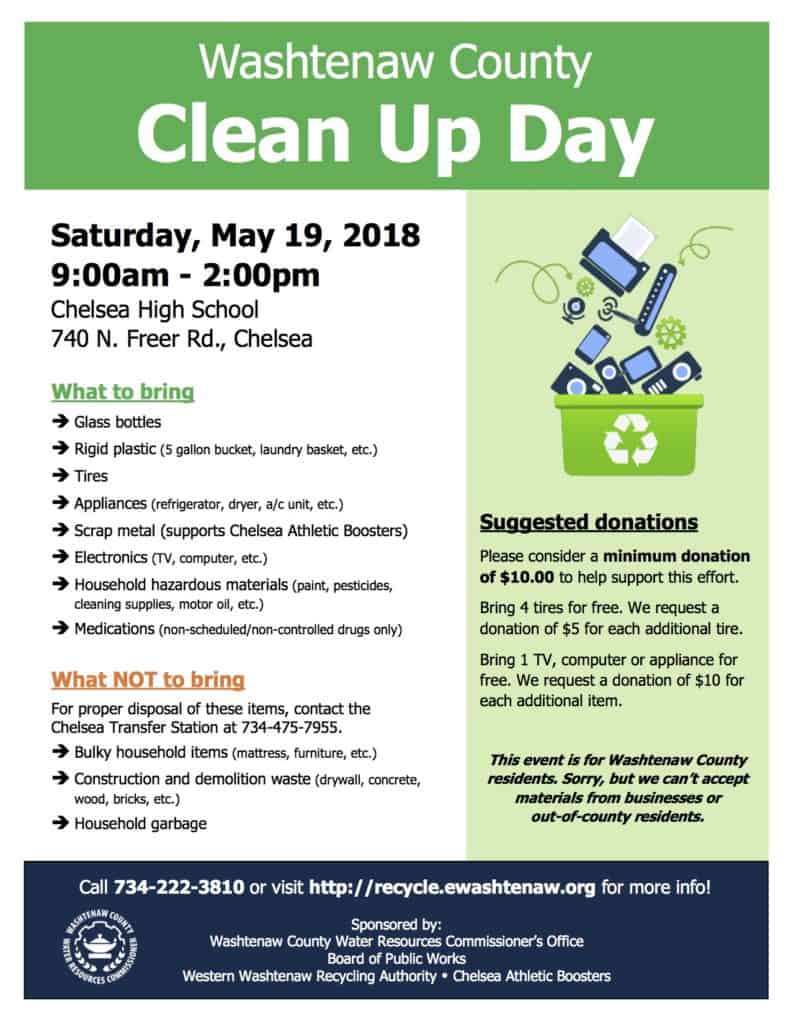 WWRA to Partner with County and Athletic Boosters for Spring Clean Up Day Western Washtenaw Recycling Authority joins the Washtenaw County Water Resources Commissioner's Office Board of Public Works and the Chelsea Athletic Boosters to host the annual Washtenaw County Clean Up Day on Saturday, May 19, 2018, from 9 a.m. to 2 p.m., at…
[READ MORE]
Featured Videos from WWRA
News Archive
Please click on the links below to read articles concerning WWRA and recycling which have appeared in the Chelsea Update.
2017
Aug. 6: Marc Williams - Manager of Materials!
May 21: Spring Clean Up Day A Success
2016
November 7th: Western Washtenaw Recycling curbside pickup day Thanksgiving week
April 30: E-waste recycling event on May 7th in Ann Arbor
April 3, 2016: Reggie the Recycling Racoon is back; Frank Hammer steps down
February 15, 2016: Feeney named new CAFA rep, Pacheco new WWRA rep
January 10, 2016: Reggie regretfully says 'goodbye and good luck' to Phil Bolyard
2015
November 15, 2015: Reggie the Recycling Racoon goes through the Looking Glass for glass
November 8, 2015: Reggie the Recycling Raccoon says: 'we are breaking glass' at WWRA
September 20, 2015: Reggie the Recycling Raccoon says: WWRA responds to the down-cycle in the recycling industry
August 16, 2015: Reggie the Recycling Racoon says: Washtenaw County may be joining the movement to ban plastic shopping bags
June 21, 2015: Reggie the Recycling Racoon re-lert: all hard plastics can now be recycled
June 7, 2015: Reggie the Recycling Racoon says: reuse or recycle your plant containers and tools
May 31, 2015: Reggie the Recycling Raccoon says: Ahh…Summer is here at last
May 24, 2015: Reggie the Recycling Raccoon says: Let's talk more about more paper and cardboard recycling
May 6, 2015: Reggie the Recycling Raccoon seen at the opening day of the Saturday Chelsea Farmers Market
April 26, 2015: Reggie sez check out these photos of my debut at the Chelsea Spring Expo
April 12, 2015: Reggie, the Recycling Raccoon says: 'I had a blast at Klager Elementary School at Math and Science Night'
April 5, 2015: Reggie the (Rabbit-Ear) Recycling Racoon says Happy Easter readers
March 29, 2015: Reggie the Recycling Raccoon says: Recycle those papers and magazines, don't waste them
March 22, 2015: Reggie Raccoon Says: Spring is arriving, it's time for lots of recycling activity
March 15, 2015: Reggie the Recycling Raccoon says: Recycling is a product-driven market; you have the power to change the market
March 8, 2015: Reggie the Recycling Raccoon says: 'Let's answer reader questions and comments'
March 1, 2015: Reggie the Recycling Raccoon asks: 'So what do we do with other plastic materials?'
Feb. 22, 2015: Reggie the Recycling Raccoon asks: 'What's up with the other plastics?'
Feb. 15, 2015: Reggie the Recycling Raccoon says: 'Styrofoam is good for packing, worthless for recycling'
Feb. 8, 2015: Reggie the Recycling Raccoon says 'There are other uses for plastic bags'
Feb. 1, 2015: Reggie the Recycling Raccoon says 'Plastic bags are trash and are not recyclable'
Jan. 25, 2015: Reggie the Recycling Raccoon's Royal Review: Trash Collection and Recycling are Two Very Different Animals
Jan. 18, 2015: Trash has a $50,000 effect on WWRA's budget
2014
Dec. 28, 2014: Commingled recycling does not include boots or food scraps, dog poop or soiled diapers